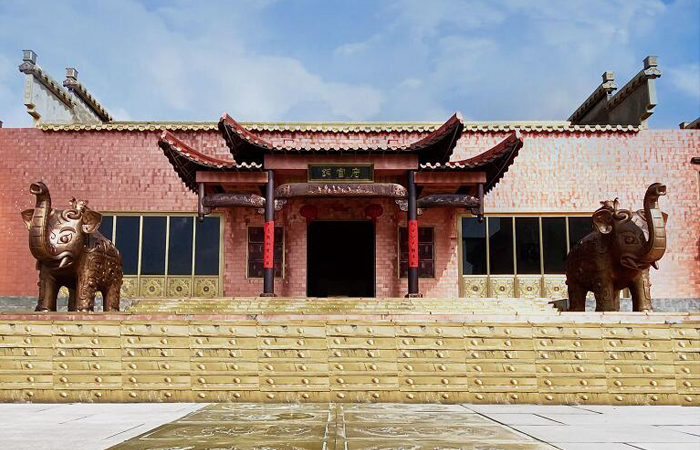 COPPER PALACE
The special architecture named " Copper Palace ", located in the center of the manufacture base with construction area of 5000 ㎡,it is decorated with nearly 500 tons of copper, using 37 kinds of copper-making techniques in ancient and modern times , in China or abroad . with copper official cultural as the main line ,it has became the unique Hui-style copper building in the world , not only with the largest total coverage, but also the most copper-making techniques.
When you start step on the floor tiles means" step by step and step rising in your career ".Two elephants in front of the gate, it is decorated with animal face pattern、 Kui pattern、 four petals pattern and other exquisite decoration with whole body , all are set off by cloud and thunder pattern ; Look up at the ingot beam with eight immortals long across the sea. The copper bricks and copper tiles in the whole Palace , with magnificence and showing the noble temperament of "Golden" and the charm .
The 33 sets of copper door ,respectively are using techniques of die-casting、 forging、carving、 inlaying with gold and silver、enamel and other different processes and copper alloy material.
Courtyard is a major characteristic of Hui-style architecture. Which main in the middle is 600 square meters, and the four Seasons Small patio with the scene sculpture embossments made by casting copper thermal coloring technology, lively ,as if the scene is reproduced. and the floor copper bricks respectively use peony, lotus, grapes and snowflakes to represent the four seasons of spring, summer, autumn and winter with pressure casting technology .
The "Copper Palace" is the core thought and value concept 、and it is the concrete embodiment of the overall concept of "Integral of Nature and Humanity" in Chinese culture.